Welcome To The Dalby Moto Website
Landline and TV News Storey on quad legislation viewing time's 9/10 and 10/10
Landline will be doing a documentary on the quad legislation and it's affect on farmers and the industry this Sunday 10/10 at 12.30pm, and it is also being played on TV News Storey at 7pm this Saturday 9/10.
DALBY MOTO - NEW PREMISES & QUADS ON ABC LANDLINE THIS WEEKEND 2/3 OCTOBER
After nearly 38 years in our old premises on Hospital Road, a 5 year plan has been nearly completed and we are now relocated in a whole new look premises right next door to our old one. The new premises have been styled keeping some of the old foundry look in the showroom, yet it is all new. The workshop office and reception is now in the same building with spare parts and workshop counters together in the showroom along with a comfortable waiting room area. The workshop is completely redesigned to be spacious, modern, clean, productive and efficient and is also under the same roof with only a door separating workshop and showroom.
We have stepped up the game in accessories and display as well, with a range of Airoh helmets, Forma adventure boots, Dunlop tyres, Motoz tyres, Michelin tyres, Motorex oils, Motul oil, Yamaha/Honda oils, Alpinestar gear/boots, 100% goggles/accessories, Oneal gear/boots, SPP gear bags, Fist gloves, Renthal/pro taper bars, RedBull, Pod knee braces, Camelbak, Scott goggles, Oakley goggles
Wide range of kids helmets (THH/RXT), LS2 adventure helmets, Nitro road helmets.
These new premises are long overdue and puts Dalby Moto into another league now.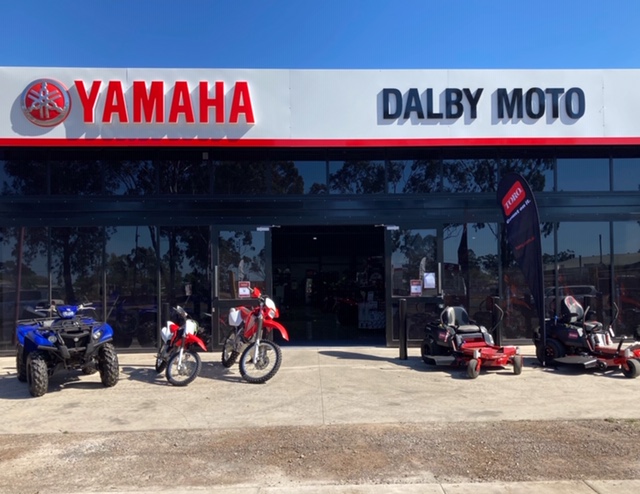 ABC LANDLINE recently contacted us, so Pip Courtney and her Landline team spent 3 hours in Dalby Moto last week exploring what the loss of Quad bikes will do to Farmers and Small businesses throughout Australia. This will be televised this weekend 2/3 October.
Some of Pips interview will also be given to 47 ABC radio stations and it's up to them if they use it, the interview will also be on ABC Online and ABC Facebook.
Our petition has not grown much of late, but it is over 27500 signatures which is significant from a voter / political situation, so lets reignite the petition throughout Australia and aim for 35,000.
We are also teaming up Keith Douglas from the Hinterland of the Gold Coast who can only use quad bikes, he has won fights against Joe Bjelke Petersen, Gold Coast City Council and some other land issue fights, so is keen to dig deep to help win this battle.
PLEASE CLICK THE LINK BELOW TO SIGN THE QUAD BIKE PETITION WHICH SEES NO MORE QUADS AVAILABLE IN AUSTRALIA AFTER 11/10/21. WE ARE THE ONLY COUNTRY IN THE WORLD WITH THIS LEGISLATION AND NO QUAD BIKES SO WE HAVE TO FIGHT TO BEAT THIS.
PLEASE CLICK ON THIS LINK AND SIGN THE PETITION TO SAVE THE QUAD BIKE IN AUSTRALIA. https://www.change.org/SaveQuadbikes TO SAVE OUR QUAD BIKES.
RURAL AUSTRALIA CALLS FOR A 3 YEAR HOLD ON QUAD LEGISLATION
Click here to read the MEDIA RELEASE
Dealers contribute funds to fight Scott Morrison as lawyers compare quad-gate fiasco with live export federal court ruling
Click here to read the Media Release - Green Shirts Movement and Save the Quad Bike in Australia join forces
Click here to read the article published by The Weekly Times
SAVE THE QUAD BIKE PETITION
Due to the new legislation, ( F2019L01321 on the Federal Register of Legislation ) meaning new Quad bikes will have to be sold with Rollover Protection, all major Quad Bike Distributors have withdrawn from the Australian market AFTER 20/10/21.

PLEASE CLICK ON THE LINK BELOW AND SIGN THE PETITION TO SAVE THE QUAD BIKE IN AUSTRALIA.
https://www.change.org/SaveQuadbikes
TO SAVE OUR QUAD BIKES.
LEGISLATION OUTCOMES AND AFFECTS ON THE ECONOMY
From the FARMERS PERSPECTIVE:
They will have higher operator expenses.

They will have lower productivity and efficiency.

They will not be as competitive on the global market against their farming counterparts overseas.

The quad bike is by far the best machine for much of rural Australia because of its size and how manoeuvrable it is with cattle and in wet or tight scrub conditions.

The quad bike is easy to transport where as the SSV buggies need a car trailer.

Due to people not wearing seat belts in buggies quad bikes are 500% safer.

They may have to travel further to get there most versatile and used machinery serviced due to closure of motorcycle businesses.
See the Save the Quad Bike in Australia website to see the thousands of comments.
From the MOTORCYCLE DEALERS PERSPECTIVE:
They are going to lose in many cases up to 40 - 50% of their turnover which will make the business unviable.

There could be many Agriculture service providers as well as motorcycle shops having to close the doors.

There undoubtedly will be a sharp rise in unemployment in this sector and all sectors that are affected by this legislation from manufacturers to accessory and freight companies.
From the GOVERNMENTS PERSPECTIVE:
They have not factored in that they will lose import tariffs on over 11,000 units per year.

They will lose GST on the sale of over 11,000 quad bikes annually.

They will lose company taxes paid by hundreds of motorcycle shops in Australia.

They will see massive unemployment from the motorcycle industry.

They will also lose the same taxes and see the same unemployment in all the ancillary industries all over Australia from the manufacturers and their warehouses, to the freight companies and accessory companies.

They will be putting themselves in a situation to have a class action brought about from all of the affected people above that could easily equal the NORTHERN TERRITORY CATTLE EXPORT LEGISLATION.

They are handing the Quad Bike market in Australia over to the CHINESE AND ASIAN COUNTRIES.
AND WHO PAYS FOR ALL THIS, THE TAX PAYER IN AUSTRALIA.

https://www.change.org/SaveQuadbikes

SAVE OUR QUAD BIKES.
---------------------------
DALBY MOTO ARE NOW PROUD STOCKISTS OF
'TORO MOWERS'
CLICK HERE FOR FULL DETAILS
Trading Hours
Monday to Friday : 8.00am - 5.00pm
Saturday : 9.00am - 12.00pm